Sampling mud flats despite large tides!
Jul 09, 12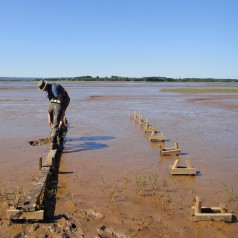 You might have heard that the Bay of Fundy is home of the largest tides in the world, reaching heights above 16 m. As part of my Master's project, I needed to obtain sediment cores from mud flats that experience such huge tides. Our usual hand coring technique consists of using a simple device to push plastic barrels into water-covered sediment, seal them, and bring them out. It is usually carried out from a small ship or even by simply walking into the water (see left picture below). This technique, however, was completely useless in the Bay of Fundy! Instead, we set up two semi-permanent pier that allowed us to walk over the mud without disturbing it and manually dig out our cores at low tide (see right picture below).
As you can see, my supervisor Paul Hill is not one to shy away from heavy work!