Filling the MUC with muck!
May 18, 13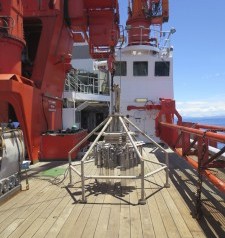 Often times ocean scientists are interested in what's happening below the water, on the ocean floor. One instrument used to sample deep-water ocean sediments is a Multi-Corer or MUC. What's cool about a MUC is that it keeps the sediment-water interface intact. The ability of the MUC to preserve the most recent (top) sediment layer makes it unique from gravity or piston corers, which essentially sacrifice the top sediment layers for increased penetration depths and longer cores. We send the MUC instrument, which can be seen in the pictures below, to the bottom of the ocean using a winch. Once the instrument has hit the bottom, the tubes are slowly driven into the sediment and sealed before it is hauled back up to the surface. Using a MUC we can see exactly what's happening at the seafloor surface even though its been pulled up 4000 m from the bottom of the ocean! In the end, we get about 30-40 cm of sediment from the ocean floor in each MUC tube.
Just by looking at the cores and feeling the mud we can identify boundary and redox layers as well as differences in grain size. But to find out more, we take samples of these cores for future analysis.
If you like getting muddy, then you'll love sediment work! To sub-sample these cores we remove a tube filled with sediment from the MUC and place it on a stand. Once the core is on the stand we can move it down centimeter-by-centimeter revealing 1 cm of sediment at a time and scraping it off. For the first few really wet centimeters we put the sub-samples in a glass jar. After that we fill syringes with sediment every few centimeters until we get to the end of the core. Since we're dealing with mud, and not water, we have to cut the tip off the syringe and then push it into the sediment core to get our sub-sample. Once we've taken these sub-samples we can look at things like nitrogen isotopes, sediment grain size, and multiple other parameters. Ultimately, this information from the sediment helps us reveal a little bit more about what's happening in the ocean above, both today and in the past.