Tropical Pacific geoscience
May 14, 13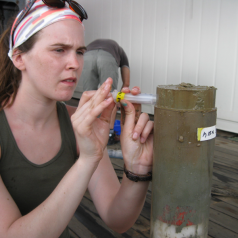 It's always nice to "have" to go to sea in the tropics, especially when it's 10 C and rainy back in Halifax. Dal MSc student Liz Kerrigan and her supervisor, Prof. Markus Kienast, are currently sailing aboard the 98 m German research vessel RV Sonne between Kaohsiung in Taiwan and Jayapura in the easternmost corner of Indonesia.
The research work being conducted is, in general, geoscience. What does this mean to student scientists onboard? More often than not it means getting muddy. Inevitably on a geoscience cruise, some amount of mud will be brought up from the seafloor and processed. The fate of the mud varies and depends on who wants it and for what, which often determines how it was retrieved from seafloor. Processing onboard can involve splitting, cutting, sub-sampling mud/porewater, logging, and always labeling. You can see Liz sub-sampling a multi-corer tube in 1 cm slices and using a modified syringe in the pictures below.
Every now and then, crafty professors manage to escape the daily grind at the office and actually make it out on one of their cruises. Markus gets points for craftiness here: not only has he managed to make it out on a cruise, he's selected a tropical location and is keeping his hands clean… or at least mud-free! You can see Markus sampling seawater from niskin bottles in a CTD rosette in the pictures below. He is hoping water column profiles of nutrient concentrations and the isotopic composition of nitrate will help explain water mass distributions in the study area, and aid in ground-truthing the interpretation of paleoceanographic proxy records.
This cruise (SO-228) combines three cruise proposals for research in the Western Pacific. Read more about the proposed research and cruise plans on the MARUM Bremen University website.